Date posted: 14th February 2023
New Scottish farm payment scheme announced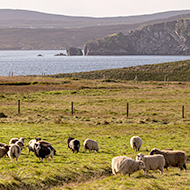 The scheme aims to improve the health of Scottish livestock.
The British Veterinary Association's (BVA) Scottish Branch has expressed support for a new farm payment scheme that will aim to improve the health and welfare of Scottish sheep and cattle.
Scottish farmers and crofters will be able to claim the new £250 payment from summer 2023 for veterinary health and welfare interventions, such as screening for certain diseases.
The scheme was announced by Rural Affairs Secretary Mairi Gougeon on 10 February, ahead of the National Farmers Union Scotland annual general meeting. It is part of the Scottish Government's post-Brexit future framework for sustainable agriculture.
Research has shown that healthy cattle and sheep produce less emissions and require less veterinary treatment and fewer antibiotics. All of which contribute to a more sustainable and regenerative agriculture sector.
BVA branch president Romain Pizzi welcomed the announcement and said: "The Scottish Government's new farm payment scheme will support better livestock health and welfare in Scotland and provide welcome opportunities for vets to further engage with farmers and crofters rearing sheep and cattle.
"BVA would like to see the vet-farmer relationship embedded as the cornerstone in Scotland's permanent future farming policy, to help deliver improved animal health and welfare, productivity, and sustainability goals."
---