Date posted: 1st February 2023
Defra announces new barn egg labelling concession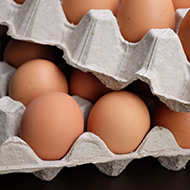 The move is designed to support producers with rising costs and the impacts of avian influenza.

Eggs originating from free-range flocks in England housed owing to the spread of avian influenza will need to be labelled as barn eggs under new measures announced by the Government.

The concession comes into force today (1 February) for eggs originating from free-range flocks in East Anglia and from 27 February for the rest of England. In line with egg marketing regulations, the dates mark the end of the 16-week grace period given after the introduction of a regional and subsequent national mandatory housing order.

Farming minister Mark Spencer said: "Farmers and poultry producers are facing real pressures as a result of this avian influenza outbreak. We hope the labelling concessions announced today will help ease the burden industry is facing.

"We are very mindful of the need to maintain consumer confidence in the free-range brand long-term and appreciate the continued cooperation from the sector as we battle this insidious disease".

The United Kingdom is currently facing its largest-ever avian influenza outbreak, with more than 300 cases confirmed since late October 2021, most of which have been in England. To mitigate the spread of the disease, the Government maintains that all poultry and captive birds must be kept indoors in England until further notice and that keepers follow strict biosecurity measures required under the Avian Influenza Protection Zone.

The new legislation requires producers to clearly indicate the farming method on the outer surface of egg packaging and stamp eggs with the appropriate code to show that the farming method has changed. Retailers will be required to provide clear signage to ensure customers are not misled and to avoid undermining consumer confidence in the free range egg industry.

The measures will remain in place until further notice and will be kept under regular review.

---