Date posted: 30th January 2023
RSPCA reminds Government of Kept Animals Bill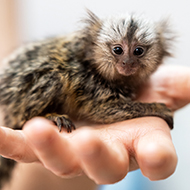 Welfare Bill hasn't progressed since late 2021.

Animal welfare charity RSPCA has once again highlighted the Government's delay in passing the Kept Animals Bill, which has not progressed through the Parliamentary process since November 2021.

The Kept Animals Bill, which had its first reading in June 2021, includes a wide range of commitments to improve animal welfare, including restricting the keeping of primates as pets.
Among these include the banning the export of livestock for slaughter or fattening, limiting the non-commercial movement of dogs, cats and ferrets, tackling livestock worrying, and creating specific new offences linked to pet theft.

With the potential for a large positive impact on welfare on the line, the bill has yet to have its report stage and third reading in the House of Commons, as well as its journey through the House of Lords. The charity worries that the delay is preventing vital improvements for many animals in the UK.

One of the laws to potentially be brought into force is the power for UK and Welsh governments to place restrictions on the import of dogs from abroad, including those with cropped ears.

Despite ear-cropping being an illegal procedure in the UK, the RSPCA is concerned that some traders crop their dogs' ears at home, using importation as a loophole and excuse.

Head of public affairs at the RSPCA, David Bowles, commented on the Government's inaction with the Bill: "We're absolutely puzzled why the Kept Animals Bill remains in parliamentary limbo after so long - the UK Government really needs to get this done, for the sake of countless animals.


"From ending the keeping of primates as pets, to banning live export of animals for fattening and slaughter, and stopping cropped ear dogs being imported, this Bill needs to resume its parliamentary journey as soon as possible."

Urging supporters to write to their MP and ask them to call on the Government to 'bring back the Bill before it's too late', the RSPCA is using the hashtag #ActNowForAnimals to garner support.

---