Date posted: 26th January 2023
Further details revealed for VMA Annual Awards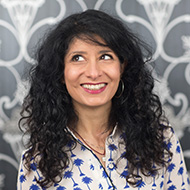 Shaparak Khorsandi announced as host of veterinary awards.
The Veterinary Marketing Association has announced the finalists for its New Marketing Talent Award, given to a new marketer who has demonstrated success within the veterinary and animal health industry.

Sponsored by the British Dairying magazine, the award will be presented at the VMA Annual Awards in March, and the winner will receive a £1,000 personal award and £2,000 Marketing CPD bursary.

The three finalists are:

Evgeniya Kostova – marketing communications officer at the Royal College of Veterinary Surgeons (RCVS)
Blaise Scott-Morris – equine marketing and technical manager at MSD Animal Health
Christina Brazzale – marketing executive at Crematoria CVS (UK) Ltd.
Prior to the awards ceremony, all three of the finalists will be invited to an interview and case study exercise in order to decide a winner. In this process, each finalist will have the opportunity to demonstrate their marketing skills.

The Veterinary Marketing Association has also announced that the awards event will be hosted by prominent comedian, author, speaker and human-rights advocate Shaparak Khorsandi.

Establishing herself as one of the UK's most beloved comedians, Shaparak's sell-out Edinburgh show Asylum Speaker created an instant comedy hard-hitter, exploring her childhood experiences as a refugee fleeing Iran in a sensitive yet witty manner.

As a keynote speaker and awards host, Shaparak draws from her early stand-up shows, demonstrating the ability to handle serious subjects with a touch of humour.

The VMA Annual Awards are set to take place on 17 March 2023 at the five-star Royal Lancaster Hotel in London.
---