Date posted: 25th January 2023
Kennel Club offers health testing at Crufts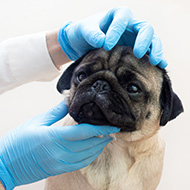 Free tests available for brachycephalic breeds.
The Kennel Club is offering health tests to competitors in its annual dog show, Crufts.

All exhibitors have the opportunity to book discounted DNA testing and eye testing, and brachycephalic breeds are offered free Respiratory Function Grading scheme assessments and eye tests.

Across the show's four days, a total of 240 eye testing appointments will be provided for all breeds on a first come, first served basis. Each day, there will be a morning session taking place from 10am to 1pm, and an afternoon session taking place from 2pm to 5pm.

Appointments for these tests can be booked via The Kennel Club website at a cost of £30 per dog, a £15 reduction from the usual rate.

Exhibitors are reminded that their dog's Kennel Club registration certificate, along with any previous eye test certificates, to the appointment. Only exhibitors with a dog pass may book an appointment.

The free Respiratory Function Grading scheme (RFG) assessments are offered exclusively to bulldog, French bulldog and pug exhibitors on Sunday 12 March. These will be booked on the day with The Kennel Club team.

Free eye testing will be available for the following breeds; bulldogs, French bulldogs, Pekingese, pugs and shih tzus. This will run on Sunday 12 March only, and will also need to be booked on the day with The Kennel Club team.

Crufts show manager Vanessa McAlpine explained: "Crufts celebrates healthy and happy dogs, and we hope that by making health testing accessible and easily available at Crufts, that these offers will be taken up and the information provided will be used to reduce the frequency of eye disease or breathing issues being passed on to puppies.

"The Kennel Club health team will be on hand throughout the event to speak to owners and breeders interested in improving canine health and the schemes and initiatives we offer."

Further information on how to get a dog health tested can be found by emailing health@thekennelclub.org.uk or speaking to the team at the Crufts event.


---