Date posted: 25th January 2023
Petition calls for cost of living animal welfare fund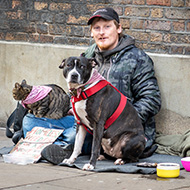 Campaigners warn millions of pets are at risk of being abandoned or euthanised.

Thousands have signed an online petition calling on the Government to create a cost-of-living fund to support pet owners, veterinary professionals and animal charities through the economic crisis.

Launched by animal welfare campaigner Dominic Dyer, the petition calls on ministers to work urgently with animal welfare charities and the veterinary industry to establish a network of pet food banks, more kennels and free veterinary care for the pets of homeless people.

It also calls for urgent mental health support for people working in the veterinary industry, funding for local authorities to deal with stray dogs, and fast-track visas for non-UK veterinary professionals to enter the UK.

The petition states: 'We face a companion animal welfare crisis of unprecedented proportions as a result of the cost of living crisis. Without Government intervention millions of dogs and cats could be at risk being abandoned or euthanised on economic grounds, on a scale not seen since the pet cull at the start of WWII.'

As the cost of living crisis starts to bite, research suggests that thousands of pet owners are being left with no choice but to give up their pets.

Dogs Trust recently warned the animal welfare sector is at a crisis point, with more animals being abandoned than it has the room to care for, while research by PDSA found that almost a third of pet owners are worried about affording veterinary bills.

The veterinary charity said that a staggering 930,000 pets risk being euthanised should their owners be met with unexpected veterinary costs.

PDSA veterinary surgeon Lynne James said: "The rising cost of living is a cause of real concern for households across the UK, but even more so for the most vulnerable, who often rely on the companionship of a pet – particularly during what can be the coldest and most lonely time of year."
The RSPCA's recently published Animal Kindness Index also identified the rising cost of living as 'the biggest single threat to pets'. Seven out of 10 respondents expressed concern that the cost of care was increasing, while a fifth said they were worried about how they will afford to feed their pets.

At the time of writing, the petition had garnered more than 6,000 signatures. At 10,000 signatures, the Government will be obliged to respond.
---