Date posted: 24th January 2023
RCVS invites questions on 'Under Care' guidance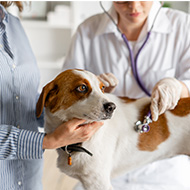 The College will be working with the BVA to develop support resources.

The RCVS has announced that it will be working with the BVA and other veterinary organisations to help professionals understand its new guidance on "under care" and the provision of 24/7 emergency cover.

In a press release, the College urged veterinary professionals to contact them if they have any questions about the reforms ahead of their implementation later this year.

Approved by RCVS Council on Thursday (19 January), the guidance follows a comprehensive review process involving consultations with veterinary professionals, stakeholders, animal owners, independent research and legal advice.
Incorporated are various safeguards to protect animal health, including a requirement that veterinary surgeons should be able to provide a 24-hour follow-up service involving examination if they do not physically see the animal before prescribing.

RCVS Council agreed to implement the changes between 1 June and 31 December 2023, subject to a final review at the next RCVS Council meeting. However, the BVA expressed concern over the decision and its implications to how vets work.

BVA president Malcolm Morley said: "BVA has been very clear that we believe remote prescribing can only be safely delivered where a vet-client-patient relationship has been established. This is an internationally recognised concept, and we are disappointed that the RCVS has decided not to embrace it."

Mr Morley added that BVA plans to develop advice and resources to help its members comply with the new guidance.

Standards Committee chair Linda Belton said: "We are keen that we to help the profession better understand the guidance and its impact ahead of its implementation. Therefore, we will be using this intervening time to prepare additional case studies, FAQs, advice and learning materials to help veterinary professionals understand how the new guidance should be followed within their sectors.

"We also look forward to working with the British Veterinary Association and any other veterinary organisations to ensure their advice and resources are consistent with this new guidance. In the meantime, those with any questions about the new guidance should email standards@rcvs.org.uk."
---