Date posted: 23rd January 2023
Dechra launches new sedative for dogs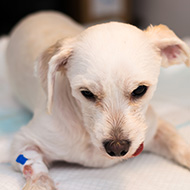 New product promises rapid onset and recovery.

A new sedation medication for dogs has been launched by Dechra, named Zenalpha.

Zenalpha is an alpha-2 agonist and peripheral antagonist combination, which alleviates the stress of sedation.

The medication provides restraint, sedation and analgesia during procedures that are non-invasive, non-painful or mildly painful, which last for less than 30 minutes.

With rapid onset and recovery, it allows for veterinary surgeons to start procedures quickly, and for patients to recover faster.

Zenalpha is administered intramuscularly and takes five to 15 minutes to take effect.

Brand manager at Dechra, Claire Westoby, commented: "With an ever-growing range of products for anaesthesia and analgesia, we are delighted to add Zenalpha to our extensive portfolio.
"The next generation of alpha-2 agonists have evolved to provide the same effective and reliable sedation and analgesia, but with reduced cardiovascular side effects and a reduced chance of vomiting.

"This improves the sedation experience for the canine patient, as well as reducing the associated stress commonly experienced by veterinary teams and dog owners."

Matt Gurney BVSc CertVA PgCertVBM DipECVAA FRCVS RCVS and EBVS European Specialist in Veterinary Anaesthesia, explained: "Zenalpha not only provides a solution to cases where IV placement is not possible and a rapid onset IM option is required, but it also offers a rapid and complete recovery which ensures that dogs can be reunited with their owners and return home as soon as possible."

Further information on Zenalpha can be found on the Dechra website at Dechra.co.uk/zenalpha or by contacting a local Dechra territory manager.
---