Date posted: 23rd January 2023
Queen's University academic joins animal welfare committee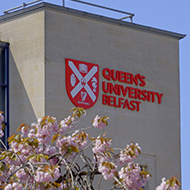 The animal-welfare expert will advise UK policy makers.

Dr Gareth Arnott, an academic at the Institute for Global Food Security (IGFS) and the School of Biological Sciences at Queen's University Belfast, has been appointed to the Animal Welfare Committee (AWC).

He is one of seven new appointments made by Gareth Baynham-Hughes, the director of Animal and Plant Health and Welfare at the UK Department for the Environment, Food and Rural Affairs (DEFRA).
The other new members, who are all leading authorities within the veterinary and zoology industries, are Emily Craven, Professor Simon Girling, Dr Julian Kupfer, Stephen Lister, Dr Julia Wrathall and Professor Madeleine Campbell, who will chair the committee. They will serve on the committee from January 2023 until December 2026.

The group provides specialist advice to DEFRA and the devolved governments of Scotland and Wales, focusing on the welfare of companion animals, farmed animals and wild animals kept by people. Their advice is independent, impartial and authoritative, allowing policy makers to make informed decisions.

"I am very grateful to have received this appointment and see it as an ideal opportunity to use my science and research experience to contribute to developments in animal-welfare policy and legislation," Dr Arnott said after news of his appointment was announced.

Dr Arnott specialises in the biology of animal welfare and behaviour in both vertebrates and invertebrates. His research on aggression and stress in species such as dairy cattle, dogs and pigs has been widely published. He has served as the Lead for the Animal Welfare Research Network since January 2022, working to promote the use of scientific research to underpin policy decisions and legislation on animal welfare.

"This is a great honour for Dr Arnott and very well deserved," commented Professor Nigel Scollan, director of IGFS. "It places him at the centre of animal-welfare policy in the UK, helping ensure that future legislation and guidelines are based on rigorous, peer-reviewed, scientific evidence."
---