Date posted: 4th January 2023
London Zoo's annual stocktake gets underway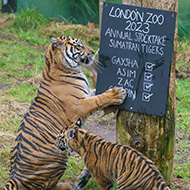 Pygmy goats and Sumatran tiger cubs are among the attraction's latest arrivals.

Keepers at ZSL London Zoo dusted off their cameras, clipboards and calculators on Tuesday (3 January) for their New Year stocktake.

From Sumatran tigers to Pygmy goats, the Regents Park team counted up more than 300 different species during the attraction's annual audit.

2022 saw the arrival of many new animals at the zoo, from a critically endangered Western lowland gorilla named Kiburi to two Sumatran tiger cubs named Zac and Crispin.
Ten Humboldt penguin chicks hatched on penguin beach, while pygmy goats Chestnut, Buttons and Truffle joined the herd in June.

Dan Simmonds, ZSL's zoological operations manager, said: "With more than 14,000 to count at ZSL London Zoo, our keepers all have their own ways of tallying up the animals in their care – from taking pictures of the coral tank in Tiny Giants to avoid counting the same fish twice, to using training and rewards to count larger groups such as our squirrel monkeys and Humboldt penguins."

Also featuring in the count for the first time is big-headed turtle Celia, whose parents were rescued from the illegal wildlife trade. Celia will soon move with 1,339 other reptiles and amphibians to an exciting new home, The Secret Life of Reptiles and Amphibians, opening in the Spring.

For some zookeepers, counting the animals is as simple as 1-2-3, but others come up with ingenious strategies to ensure every animal at the Zoo is accounted for. For example, the Tiny Giants team counts ant colonies as a single entity rather than counting hundreds of individual ants, while the herpetologists take photographs of the tadpole tank to help complete their count.

Information from the audit will be shared with other zoos around the globe via a database called ZIMS, used to help manage worldwide conservation breeding programmes for endangered species.
Image (C) ZSL London Zoo.
---