Date posted: 15th December 2022
Wild Welfare delivers training programme in Vietnam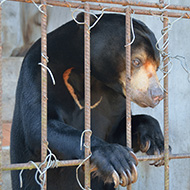 The charity visited Dong Nai province.
Following the completion of a successful animal care training programme in Laos, international animal charity Wild Welfare has expanded the programme to Vietnam.

Originally designed for online learning, the Wild About Welfare Digital Learning Education Programme has been translated into specialist animal welfare training workshops.

The workshops, which took place over five days, provided practical activities and opportunities for group discussions, and aimed to provide those involved in animal welfare with the confidence and knowledge to improve their organisation's animal care.

Held in partnership with Free the Bears and Cat Tien National Park, the event held in Dong Nai province saw animal caregivers from six different welfare organisations in attendance. All of the learning content was delivered entirely in Vietnamese, and supports Wild Welfare's field project activities and collaborations in the country.

Thuong Ta, sanctuary manager at Free the Bears, said: "I was so amazed that all candidates from different backgrounds and different facilities (NGO and government) were so engaged in the training, especially with the practical sessions.

"They were proactive to debate and share their own experiences to figure out the best possible solutions to improve the living conditions of the animals under their care.

"After the training, everyone was very happy and kept in contact with each other for further exchange. All of them confessed that they really want to join another training course with more practical sessions."

Attendees were also given the opportunity to observe wild animals in their natural habitat, when an elephant interrupted and enclosure assessment activity, and a gibbon family who appeared during the nutrition module.

Available on the Wild Welfare website, the free-to-access digital course was created in partnership with the Jeanne Marchig International Centre for Animal Welfare Education (JMICAWE) and the University of Edinburgh.

The online learning programme was launched in January 2021, and has since been accessed in 63 different countries worldwide.
---