Date posted: 10th November 2022
Vet nurse to lead flagship Blue Cross hospital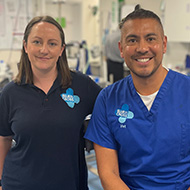 Louise Newman is the first RVN to be appointed to the role.

A veterinary nurse has been appointed to lead the Blue Cross flagship animal hospital in Central London for the first time in the charity's 125-year history.

Louise Newman, who joined Blue Cross as a night nurse in 2006, will oversee the veterinary and support services, budget and overall clinical decisions at the charity's Victoria Animal Hospital, which opened in 1906.

Having first joined the profession as a student nurse in 2001, Louise has gained a wealth of experience in roles such as nurse leader, volunteer coordinator and a practice manager.

She said: "It's the love of animals that motivated me to join the veterinary nurse profession but it's my love of people that has kept me here. I've always wanted to act as a role model and to coach and develop a team.

"I've got a real passion for customer service which comes from working alongside my mother in a family run business and I've always wanted to do the best for people".

Dr Paul Manktelow, director of veterinary services at Blue Cross added: "Louise is a great example of incredible talent within the veterinary nurse profession. It's a role with very strong transferable skills around communication, compassion and the ability to get things done.

"I think vet nurses are very well positioned to understand the challenges in the profession and make practical steps to protect the wellbeing of the team whilst ensuring the service meets the highest welfare standards".

This year marks the 125th anniversary of Blue Cross, first known as 'Our Dumb Friends League'. The charity formed to help vulnerable pets and their owners and contiues this work today across its rehoming, clinical, animal behaviour, pet bereavement support and educational work.
Image (C) Blue Cross.
---