Date posted: 14th June 2022
Nominations open for Vet Nurse of the Year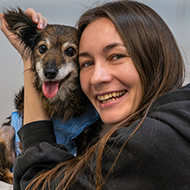 Blue Cross begins annual search for star vet nurse.
Blue Cross has opened nominations for its 'Veterinary Nurse of the Year' award 2022.

The charity asks pet owners and veterinary practices to nominate an incredible veterinary nurse for the award, which recognises a veterinary nurse who not only cares for sick and injured pets, but also goes the extra mile to encourage responsible pet ownership and improve pet welfare in the community.

Chief operating officer at Blue Cross, Kelly Grellier, said: "Blue Cross is proud to offer this reward in appreciation of the commitment of vet nurses across the UK who work tirelessly to improve the lives of our pets, other animals and their owners.

"We are looking for vet nurses who really go that extra mile to support pet owners in their communities who have a significant impact in improving the nation's animal welfare."

The award will be presented at the British Veterinary Nursing Association's (BVNA) annual congress, taking place in Shropshire from 7 – 9 October 2022.

Nominations can be made on the Blue Cross website, and the deadline for nominations is Wednesday 31 August 2022.
---