Date posted: 10th March 2022
Online transfusion medicine course launched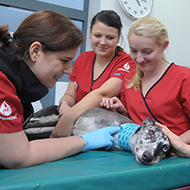 Improve International and Pet Blood Bank UK are collaborating on the course.

Pet Blood Bank UK has partnered with Improve International to created an online CPD programme in transfusion medicine for veterinary nurses and technicians.

The course offers the opportunity to gain a Nurse Certificate (NCert), Veterinary Technician Certificate (VTCert) or Veterinary Paraprofessional Certificate (VPPCert), and has been accredited by the International School of Veterinary Postgraduate Studies.

Beginning on 1 July 2022, the course takes place online, and will be delivered over the course of 15 months.

Helen Rooney BSC (Hons) CVN, Cert Ed, Dip AVN (Medical), Cert ECCVN, RVN, Induction & Training Manager, Pet Blood Bank UK commented: "After 14 years of supporting veterinary practices with transfusion medicine and running our blood bank service, we feel the time is right to pass on what we have learned.

"We know that transfusions are now being performed in first opinion, as well as referral settings and we are so excited to be part of this formal training and qualification for veterinary nurses.

"Transfusion medicine is an ideal specialism for nurses as many aspects can be nurse-led, including the recruitment of blood donors and on-site product management, setting up the transfusion and monitoring recipients and developing practice transfusion protocols.

"This unique course is suitable for any nurse wanting to advance their transfusion knowledge and more confidently support their clinicians when the decision to transfuse is made.

"At Pet Blood Bank, providing education and training to advance transfusion medicine has always been a core part of our mission so we are delighted to support the creation of this course."

Further details on the course, including pricing, modules and FAQs, can be found here.


---