Date posted: 3rd December 2021
Vets and educators meet to address workforce shortages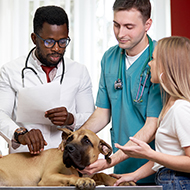 RCVS Workforce Summit explored recruit and retention concerns.

Delegates from across the veterinary sector met in London this week to discuss potential solutions to some of the key workforce issues currently facing the professions.

Representatives of veterinary and veterinary nursing associations, employers, charities, government and educators were among those in attendance at the RCVS Workforce Summit, held at the organisation's headquarters on Tuesday (30 November).

During the meeting, participants were invited to identify solutions on six topics highlighted as priorities by preliminary research conducted by the RCVS, including 'readiness for work', work-life balance', and 'workplace culture'.
Delegates were then asked to condense their ideas into viable solutions that would have a positive impact on the professions and the public. A report of the day is expected to be published shortly, together with an action plan that will include a commitment from a range of stakeholders.

RCVS CEO Lizzie Lockett said: "It's clear that there are a number of workforce issues affecting the professions, such as high vacancy rates that employers are struggling to fill and a resultant increase in pressure on the professions in terms of caseload and hours worked, together with an increase in the number of people choosing to leave the professions.

"While many of these issues are long-standing, and due to complex and multifactorial reasons, the scale of the problem has been exacerbated by three things: the UK's exit from the EU and the impact this has had on overseas registrants; the ongoing impact of the pandemic in areas such as staff absence and burnout; and an increase in demand for veterinary services."

Concluding the meeting, RCVS President Kate Richards, said: "The connections that we have with each other as veterinary professionals – through our dedication to animal health and welfare, our vital role in public health and protection, the trust placed in us day-in, day-out by the public – those connections have sparkled through today's discussions.

"We can't change what brought us to this particular moment, but I now feel confident that we have the beginning of a roadmap to address and mitigate the issues currently facing the profession. It won't be quick or easy, and there are many factors and circumstances that aren't within our control, but thanks to you, we have a direction of travel and a sense of how to get there."
---