Date posted: 29th November 2021
VetPartners announces expansion in Switzerland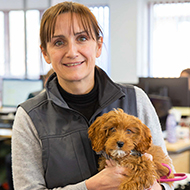 Swissvet becomes group's founding network of practices in the country.

VetPartners has announced its continued expansion into the European market with the acquisition of a group in Switzerland.

The Swissvet Group, which was founded five years ago, has become VetPartners' founding network of practices in the country.
The group has 100 employees working across 12 practices in the French-speaking part of Western Switzerland. Group co-founder Florent Bourachot will continue as CEO to oversee the organisation's further growth.

Mr Bourachot said: "VetPartners is the right fit for us because we share the same values and culture. It is a very caring group that looks after its people and supports teams while still allowing them the autonomy to make clinical decisions.

"The veterinary market is evolving in Switzerland and VetPartners will help us to pursue our strategy by being more competitive and to expand in this country. We already have interest from other practices and projects for new practices.

"Being part of a larger group means our employees will benefit from having access to knowledge and data throughout the VetPartners group, and there will be opportunity to benefit from CPD and training. It is also a group that looks after the wellbeing of employees, which is important in today's challenging climate."

UK-based VetPartners already has practices in France, Italy and Germany, and plans to further expand in Spain.

VetPartners CEO Jo Malone said: "As soon as I met Florent and Antoine, I knew that Swissvet Group would be a good fit for us. We are delighted that they are now working with us and we look forward to being part of the future growth in Switzerland."
Image (C) VetPartners.
---