Date posted: 25th November 2021
Vet professionals asked to contribute to senior dogs survey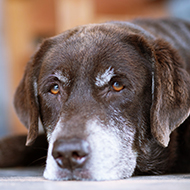 The survey focuses on senior dog preventative healthcare.
BSAVA PetSavers is seeking veterinary surgeons, veterinary nurses and veterinary physiotherapists for a survey on senior dog preventative healthcare treatment.

The survey is part of BSAVA PetSaver's Old Age Pets project, and requires responses from veterinary professionals who currently conduct, or have recently conducted, consultations on senior dog preventative healthcare treatment in order to assist in the development of a guidance tool.

Taking around 20 to 25 minutes to complete, the survey provides veterinary professionals the opportunity to contribute to the development of the guidance tool, and to help guide discussions with owners on senior dog care in practice.

Funded by BSAVA PetSavers, the research project at the University of Liverpool aims to help veterinary professionals and owners provide the best cate for senior dogs. In the initial stage of the study, veterinary professionals were interviewed about current services provided for senior dogs, and owners were asked about their experiences living with their senior dogs.

Lisa Wallis, postdoctoral researcher on the project, said: "The interviews obtained rich qualitative data that captured the thoughts and feelings of the owners living with and caring for a senior dog.

"Their depth and detail encouraged people to expand on their individual experiences and open up new topic areas that we might not have initially considered."

Commenting on the new veterinary survey, Dr Carri Westgarth said: "The veterinary survey focuses on the perceived barriers to care for senior dogs, end-of-life care including quality-of-life, and the potential design of the BSAVA PetSavers guidance tool.

"We would be grateful if any veterinary professional could take a few minutes from their day to help us with this project."

Any participants are given the opportunity to win an Amazon voucher, and the survey can be accessed here.
---