Date posted: 24th November 2021
Hartpury announces two new postgraduate animal degrees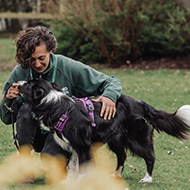 The Courses will balance scientific research with real-world practice.

Hartpury University in Gloucester has announced two new postgraduate animal science degrees for 2022 to equip students with the skills required for management and research roles.

The MSc Applied Animal Behaviour and Welfare has been designed to meet emerging animal welfare challenges and their connection to behaviour.
Focusing on the scientific understanding of behaviour and welfare issues, the programme will also explore how this can be applied to real-life situations.

The MRes Animal Science degree aims to equip graduates with advanced research expertise, enabling them to advance future scientific research and real-world practice. Students will be encouraged to attend industry conferences and engage with academics to gain opportunities to present and publish research.

Dr Wanda McCormick, head of animal and agriculture at Hartpury University, said: "We're thrilled to announce the addition of two exciting and important postgraduate degrees for 2022.

"As graduates progress into management positions, they're likely to be making decisions that actively impact the lives of animals. Having a comprehensive understanding of behaviour will enable them to act in the best interests of the animal while balancing practical real-world challenges. Graduates will perhaps most importantly have the knowledge and skills to influence and educate others around them, further improving the lives of animals.

"I'm particularly looking forward to the difference students enrolled on our new MRes Animal Science degree will make, given the far-reaching impact Hartpury research has previously had in the sector."
---