Date posted: 23rd November 2021
RCVS to hold webinar on handing challenging situations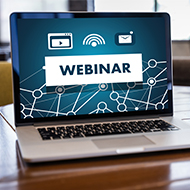 The webinar will be aimed at students and those newly on the RCVS Register.
The RCVS is encouraging veterinary students and those who have recently joined the RCVS Register of Veterinary Surgeons to attend a free webinar on how to handle difficult situations in practice.

Taking place on Tuesday 7 December from 7.15pm onwards, the hour-long interactive webinar will show veterinary surgeons who have recently joined the Register discussing the challenging situations they have encountered in practice, and how they dealt with it.

Topics covered will include the provision of pragmatic care, having difficult conversations with clients, and handling client confidentiality. These situations will be shared by Izzy Hocking, Hannah Prestwood and Bolu Eso, who graduated in 2018, 2018, and 2019 respectively.

Head of legal sevices (Standards) at the RCVS, Gemma Kingswell, commented on the webinar: "We recognise that starting in your first job as a veterinary surgeon is very exciting, but that the first few months in practice can be daunting too as you encounter challenging situations for the first time.

"This webinar aims not only to provide some practical guidance on how to deal with difficult situations in a pragmatic way should they arise, but also provide some reassurance that you are not alone in facing them.

"The webinar will also explore how the speakers have reflected on the difficult circumstances they have encountered in order to build up the knowledge, confidence and resilience to deal with similar situations in the future."

After Izzy, Hannah and Bolu have shared their experiences, Gemma will go through each scenario with reference to the Code of Professional Conduct for Veterinary Surgeons and discuss how best to handle those challenging situations.

Those interested can sign up for the webinar here, and a recording of the webinar will be made available shortly afterwards on the RCVS website for those unable to attend.
---