Date posted: 7th December 2020
Scotland introduces harsher penalties for animal and wildlife crime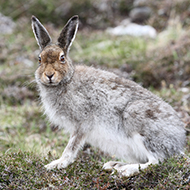 Finn's Law also comes into force to protect service animals

The Scottish government has brought new measures into force which increase the maximum available penalties for the most serious animal welfare and wildlife offences.
The Animals and Wildlife (Penalties, Protections and Powers) (Scotland) Act 2020 – which came into force on 30 November – increases the maximum penalty to five years imprisonment and unlimited fines for the worst cases of animal welfare and wildlife crime.
Courts will be able to use these tougher penalties when convicting those involved in animal fighting, causing unnecessary suffering to animals or committing a wide range of serious offences against wildlife.
The Scottish government has also introduced Finn's Law, which came into force in England last year and is named after a police dog who sustained serious injuries while protecting his handler in 2016.
Rural affairs minister Mairi Gougeon said: "We take animal welfare and wildlife crime very seriously, and we are committed to ensuring Scotland's animals have the best possible protection, including our dedicated service animals.
"The vast majority of people in Scotland treat animals and wildlife with respect and care, however the small minority who don't will be held accountable with consequences that reflect the severity of their crime."
According to the Scottish government, future secondary legislation will introduce new, flexible powers to allow for the development of various Fixed Penalty Notice (FPN) regimes outside the court system for a broad range of less serious animal health, welfare and wildlife offences.
In 2021, changes to restrict the licensed killing of seals are due to take effect and mountain hares will be reclassified as endangered animals, allowing for better protections.
The Scottish government has also stated that the introduction of new powers to deal with seized animals more quickly will be brought forward at the earliest opportunity in 2021.
---