Date posted: 26th November 2020
BSAVA announces updated Endoscopy and Endosurgery Manual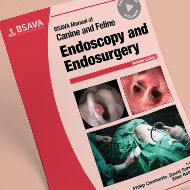 Revised second edition provides the most up-to-date guidance.

The BSAVA has announced the publication of an updated edition of the BSAVA Manual of Canine and Feline Endoscopy and Endosurgery, accompanied by a collection of videos demonstrating the techniques.

Edited by Philip Lhermette, David Sobel and Elise Robertson, this second edition has been revised to provide the most comprehensive and up-to-date guidance for veterinary surgeons who wish to practice minimally invasive endoscopic techniques.

Dr Jolle Kirpensteijn, chief professional veterinary officer at Hills Pet Nutrition in the USA and a past president of the WSAVA said: "I hope you are as excited to turn the pages as I was when I received the news that the new Manual was on its way. This book represents the pinnacle of endoscopic surgery."

According to the BSAVA, this new edition reflects the many endoscopy and endosurgery techniques that have changed since the first edition was published in 2008. Topics covered include routine procedures as well as more advanced techniques for more experienced practitioners.
The Manual is also accompanied by a series of 40 videos, accessible via the BSAVA Library, to help readers understand how to perform a particular procedure.

New topics include:

chapters on oesophagoscopy, interventional endoscopy, and evolving trends and future developments
more detailed information on minimally invasive techniques in cats

significantly expanded chapter on laparoscopy covering techniques ranging from liver biopsy and ovariectomy to cholecystectomy and adrenalectomy.


For more information about the manual visit the BSAVA website.
---