Date posted: 26th November 2020
Blind therapy cat wins Blue Cross Medal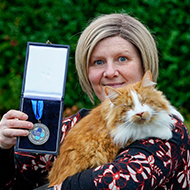 Carrots has been comforting patients at the Marie Curie Hospice in Bradford.

A blind therapy cat who helped to bring comfort to patients and their families at a Marie Curie Hospice has been awarded the historic Blue Cross Medal.

Four-year-old Carrots has been bringing joy to those living with anxiety and depression, as well as those who receive palliative care, at the Marie Curie Hospice in Bradford.

Julia Mckecknie-Burke, Blue Cross director of fundraising and one of four judges on this year's panel, said: "With the Blue Cross Medal we want to celebrate the extraordinary things pets do for us and how they change our lives.

"Carrots is a perfect example of this, and we're honoured to award him the Blue Cross Medal on its 80th anniversary, placing him alongside a long list extraordinary pets that have transformed or saved human lives."

Carrots visits to the hospice started when his owner, Katie Lloyd, was diagnosed with an Anaplastic Astrocytoma, but his soothing, confident nature soon won over the hearts of other patients. The ginger tom, who lost his sight as a tiny kitten, now provides twice-weekly visits to the hospice, sitting beside patients so that they can stroke him and listen to him purr.

Katie Lloyd said: "I'm so incredibly proud of Carrots for winning the 2020 Blue Cross Medal. I'm really humbled and didn't expect Carrots to get this kind of recognition. When Carrots first arrived I knew immediately that he was a special boy. He has been my companion for many years, helping me get through some of the hardest times of my life. "

Carrots is the only therapy cat within Marie Curie Hospices and is the UK's only blind therapy cat. During the COVID-19 pandemic - when not chasing his favourite scrunchy ball - he has been writing letters to some of the patients he has met through his therapy work - naturally signing off every letter with a paw print.

The Blue Cross Medal celebrates heroic pets who are changing or saving lives across the UK, with one pet being awarded the medal every year.

Launched during World War One, the Medal was initially given to people who helped rescue animals. The first time it was presented to an animal was in 1940, to a dog called 'La Cloche', for saving his owner from drowning after a German torpedo hit their ship.
---