Date posted: 25th November 2020
Military dog Kuno awarded for bravery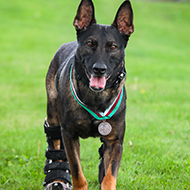 Belgian shepherd suffered life-changing injuries while on duty.

A retired military working dog who saved the lives of British insurgents during a deadly Al Qaeda attack has been awarded the PDSA Dickin Medal for his bravery and devotion to duty.

In 2019, Belgian shepherd Kuno needed to have one of his paws amputated after sustaining bullet wounds to his back legs during a compound raid.

As the British came under attack, Kuno charged through a hail of gunfire to tackle the enemy, breaking the deadlock and allowing the soldiers to complete their mission.

Kuno was formally-presented with his medal – the animal equivalent of the Victoria Cross – during a virtual presentation on Tuesday (24 November).

PDSA director general, Jan McLoughlin, said: "Kuno is a true hero. His actions that day undoubtedly changed the course of a vital mission, saving multiple lives in the process. And despite serious, life-changing injuries, he performed his duty without faltering."
Following the attack, Kuno was given immediate life-saving treatment on the back of a helicopter. One bullet had narrowly missed a main artery, and he needed several operations before he was stable enough to return the UK.

A lengthy programme of rehabilitation ensued, and Kuno was eventually strong enough to be fitted with a pioneering custom-made prosthesis to replace his missing paw.

Now enjoying his retirement, Kuno is the 72nd recipient of the PDSA Dickin Medal. Previous recipients include 34 dogs, 32 World War II messenger pigeons, four horses and one cat.
Image (C) PDSA.
---