Date posted: 9th September 2020
Stem cell study could reduce animals used in research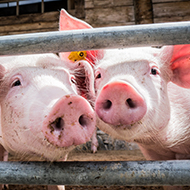 Researchers aim to generate a continuous supply of pig blood cells in the laboratory.
A new method of generating pig blood cells in the laboratory, to help limit the number of animals used in research, is being developed by scientists at the University of Edinburgh's Roslin Institute.

Researchers say their study aims to better understand techniques for generating white blood cells (macrophages) from pig stem cells in the lab. The research is being supported by the National Centre for the Replacement, Refinement and Reduction of Animals in Research (NC3Rs).

The blood cells will be used to test vaccines and treatments for highly contagious diseases, including African Swine Fever Virus (ASFV), and Porcine Reproductive and Respiratory Syndrome Virus (PRRSV).

Dr Tom Burdon from the Roslin Institute, said: "The ability to generate a continuous supply of pig blood cells from stem cells in the lab would be a valuable tool in helping to develop vaccines against devastating livestock diseases, with significantly reduced need for tissue from animals."

Working with the University of Edinburgh's Centre for Regenerative Medicine and the APHA, researchers seek to further understanding of how specific cells are derived efficiently from stem cells.

Their study will explore how white blood cells develop from pig stem cells, to identify key stages as they develop into blood cells. They hope to devise a method of arresting cell development, and for controlling the final stage of differentiation into white blood cells.

Researchers believe the technique has the potential to provide a large-scale, continuous supply of blood cells for the testing and development of therapies. It could, thereby, curb the need for tissue obtained from animals.
---