Date posted: 12th August 2020
Efforts underway to develop trypanosomiasis test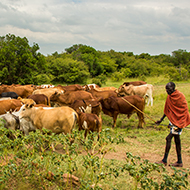 Common parasite infection causes three million cattle deaths annually.
Scientists at the University of Edinburgh's Roslin Institute are seeking to develop a diagnostic test for the common parasite infection, trypanosomiasis – a disease that affects communities and livestock in some of the world's poorest regions.

Working with agri-tech firm Roslin Technologies, researchers aim to develop a test that could prevent infected animals from severe anaemia and wasting. Spread by the tsetse fly, the disease impacts milk and meat yields, causing an estimated three million cattle deaths every year.

Dr Finn Grey from the Roslin Institute said: "This parasite-borne disease is a serious concern for livestock and affected communities. Tackling it is a key step towards ensuring food security and supporting people in affected regions."

Researchers say the test will be based on the detection of RNA, a small molecule of genetic material. RNA can also be used to differentiate between different trypanosome species.

The project will take 12 months, during which researchers will develop and validate the test, including assessing its sensitivity and ability to detect particular parasite species. It will then be handed over to Roslin Technologies for scale-up, kit development and preparation.

Professor Jacqui Matthews from Roslin Technologies, said: "We are very pleased to be working with the University of Edinburgh team to take this much-needed test to the next stage in its commercial development."

Current trypanosomiasis tests can be ineffective in identifying animals with active infections. This can result in the over-use of anti-parasitic drugs, accelerating drug resistance among the parasites and make treatments less effective.

With no vaccine to protect against trypanosomiasis, control of the disease is centred on identifying and treating the affected animals. The parasite is an emerging serious threat in countries such as South America, where more than 20 per cent of the global cattle population is farmed.
---