U-Hearts appeals for donations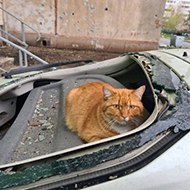 U-Hearts, the Pet Industry Federation (PIF) and Spottydog Communications are collaborating to raise awareness of U-Hearts 'Save Pets of Ukraine' campaign in the UK. Launched by U-Hearts, the campaign helps to provide abandoned pets in Ukraine during the war with the food and vaccinations they need for survival.

The organisations are calling for the support of the UK pet and veterinary industries to help provide the necessary resources and financial aid needed to keep the campaign running.

U-Hearts founder Yuriy Tokarski said: @Our collective aim is to source as many donations as possible to see the pets of Ukraine through the harsh winter."