Defra extends applications to Zoo Animals Fund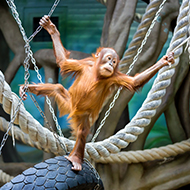 Defra has extended the deadline for applications for the 100 Million Zoo Animals Fund until 26 February 2021.

Launched in June 2020, the fund provides financial support for zoos and aquariums that have experienced a drop in income caused by the coronavirus pandemic. Grants of up to 730,000 are available, which can be used to pay for essential costs and maintenance, including veterinary care, medicines, animal feed and staffing.

More information about the fund and details of how to apply can be found here.