Date posted: 30th November 2020
RSPCA and Blue Cross announce partnership to help more animals in need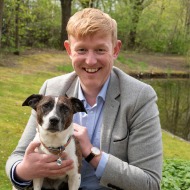 Charities to work together on a range of new initiatives

Leading animal charities Blue Cross and RSPCA have announced that they will be working more closely together in order to help more pets in need across England and Wales.
The COVID-19 pandemic has had a substantial impact on the resources and finances of thousands of charities and organisations across the country.
The two charities have agreed to collaborate more moving forward to help save funds, share resources and have as big of an impact as possible on animals.
Areas that RSPCA and Blue Cross are aiming to partner in include purchasing and supplies – where savings can be made and supply chains secured – as well as in transport of animals and in behaviour services. This, according to the charities, will help keep funds in the animal sector, as well as reducing impact on the environment.
Blue Cross CEO, Chris Burghes, said: "We are pleased to share the news of our intentions of several areas to partner on with the RSPCA. It feels that we are on the cusp of something truly exciting to reach more pets, and the people they share their lives with.
"There is much natural alignment in both our strategies and in areas of the country where we both have a presence, there is opportunity for strong working collaboration for an even greater impact for animals and communities."
RSPCA CEO, Chris Sherwood, said: "The RSPCA is excited to be exploring practical ways we can work with Blue Cross to help us work smarter and better at this difficult time for charities and for animals.
"We are keen to build strong relationships with charities across the sector so we can all collectively focus our efforts on helping the animals which need us. Strengthening partnerships is central to our new strategy."
Images (c) Blue Cross.
---